Busy and lazy...

Anyway, happy new year and valentine and birthday to everyone of you.
On the day before cny, I went to boyfriend's house.He is very lazy so I had to help him tidy abit even his mum helped him to tidy his room.Ate steamboat at his house before leaving.
Went back home and ate steamboat again.Reunion dinner so must eat...not to forget all those good stuffs.
My bro crouching after dinner.
The brothers reunion by playing mahjong.
See my cousin, zwei, so happy.
And the other family members eating chocolate love letter.
And not to forget...little ze ze.
On 1st day of cny will be visiting my maternal grandpa.
My mum wanted me to take a photo of her model foots.She very proud of it...but the angle must be correct.She specially instructed me not to take picture of the leg hairs and her body size...only the foots.
Her beautiful daughter xp
Spot my sis?She said she want to challenges those strong opponents.
Cranky ah b, Ryan.
Just changed diaper.
Just woke up.He let me carry him...so small already got temper.
Met up my lover to watch kung fu dunk.Funny show...best show I watched during cny.
Smelly lover and me.
With my sunglasses.
Went back home on the 2nd day of cny...all my family already came.
Little ze ze dressed like nerd.
With my small uncle.
Posed ghost face with my sis.
3rd day at Javier(boyfriend's head) house.Played dadee and lost.
So hard to see him style nowadays so must took picture.
But boyfriend won so he treat me dinner.
See...only asked him to treat then he wants to poke me!
Actually he just want to eat baby octopus.
Yummy!
Serve him right.Asked the waiter for extra spicy then too spicy until he asked for more water.Tried to psycho me to finish all the food by naming all those who lose that day and said I wasted their money.
Watched CJ7...since he won money so I don't want to snatch the chance for letting him to treat me.The story like very short.
Before the movie.
Better with no flash.
4th day at Wilfred's house.This time worse...lost even more.As usual, bf won but i am too tire for another movie.But he treat me swensen before going my house.And we forgot to take the orange when we left Wilfred's house.So he borrowed from his teammate.Argued with me for not taking those happiness(oranges) and made him not happy.But he very sweet...I want to drink soup and he really went downstairs to buy canned soup for me.
5th day went lee's house(biggest head in his company).Won back what is lost at wilfred's house but boyfriend lost.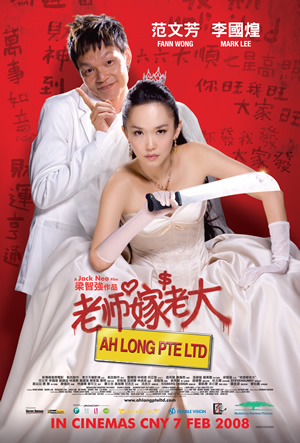 So I treated him movie to let him feel better and we had popcorn for dinner.This show...I had no good impression because it seem to copy the Korean show, my wife is gangster.No expectation so it turned up not bad.
6th day at boyfriend's house to watch vcd.Taught him how to use his printer since it is installed by me and it functions the same as mine...and I also need to print photo to put in my diary.The minute I switched off the laptop, he started to ask me how to use scanner.
So I scan this picture.Cute?Since it is destroyed in the first place, let's beautify it!
Took a picture to irritate bf...I got wanton mee to eat!
On the 7th day, I went to amk hub to collect my psp.And the minute I switched on it at bf's house, the same old problem came back-black screen.Had to go back to repair again!Wasted of my time and money.But cannot also scolded the salesperson there because they are not the boss.I just scare cannot repair and they don't want to change a new console for me.I only bought it for 1 month and it become like that.If it is your psp, will you upset?
Finally, on valentine day.We spent it like some secondary school kids.
Went to watch movie.If you don't like musical, please don't bother to watch it.Bf watched until want to sleep but he enjoyed watching the barber killing people..The young sailor is cute and voice of him is great.I guessed that the old lady beggar is his wife and I am right.
Went back to bf's house.He cooked food for me-wholemeal spaghettis with crab meat and can soup with crab meat.
His mum came back and asked why I got no flower.I stared at him and let him explained.He did gave me but I rejected.So he showed his mum the flower...
He said luckily he didn't buy because later he buy and I reject he will be heartbroken.
Actually he wanted to buy but the flowers were gone after the movie at cold storage.And I told him in the first place, chrysanthemum is for the dead.Since all flowers are gone, he pointed to chrysanthemum and explained it is not only for the death...but...
GUAN YIN MA.
He said if I don't like then can choose over lotus.
So it's better to reject right!
But we already bought each other present on the 3rd day of cny at IP zone.Some more, same price.I wore it on valentine day but he wore it on the next day I bought for him.Spoiler...never wear on valentine day.Actually, it is also very weird to wear to causeway point because it's a collar shirt.
Slacked after dinner before home.
By the way, I already received photos for x'mas 2007.I looked so fugly(having fever that time) so I am not going to post photos on my blog.Interested shall referred to my
muiltply
.
Anyway, my brother introduced this
online website
to play mahjong.
This is my wawa.Add me as friend and remember to vote for me!
Labels: boyfriend, family, nss
=BeAutIful FrIghter=
fights till the end...@ 1:25 PM